Szczecin - Berlin Brandenburg Airport - Szczecin
How to get to the airport as comfortably as possible? The BERBUS ridesharing service, which takes you to Berlin-Brandenburg Airport from the doorstep of your home! You travel in a comfortable minivan and the departure time is tailored to your flight.
What the BERBUS service is all about?
Scheduled to fly from Berlin and wondering how to get to Brandenburg Airport? Not any more! Take advantage of the BERBUS door-to-door service! Connecting rides, ridesharing, car sharing - that's the shortest way to describe the service we offer. A modern, comfortable minivan picks you up at your door and takes you straight to the airport, right to the terminal door of Berlin-Brandenburg.
BERBUS also operates on the route from Berlin airport to Stettin. The driver will pick you up directly from the terminal and take you to any place in Szczecin.
And that's not all: the departure time is tailored to your flight, so you don't have to waste time waiting too long for your plane to take off or after you have landed at the airport. All you have to do when booking the service is give us your departure or arrival time, and we'll take care of the rest! We will tailor the minivan's departure time to suit you and the other passengers.
BERBUS to BER airport - it's that simple:
Request a ride by entering your address and flight time.
Our system will determine the best time for you to be picked up.
On the day of your departure, the shuttle bus will pick you up at the agreed time from your door and take you to Berlin Brandenburg Airport. In the case of airport transfers, your journey will start from the terminal and end anywhere in Stettin.
BERBUS - service coverage
Below is a map showing where the BERBUS reaches. In addition to the centre of Szczecin, BERBUS also reaches passengers from, among other places, Prawobrzeża, Mierzyn, Bezrzecz or Kołbaskowo.
If you would like to use our service from outside the marked area, please contact us.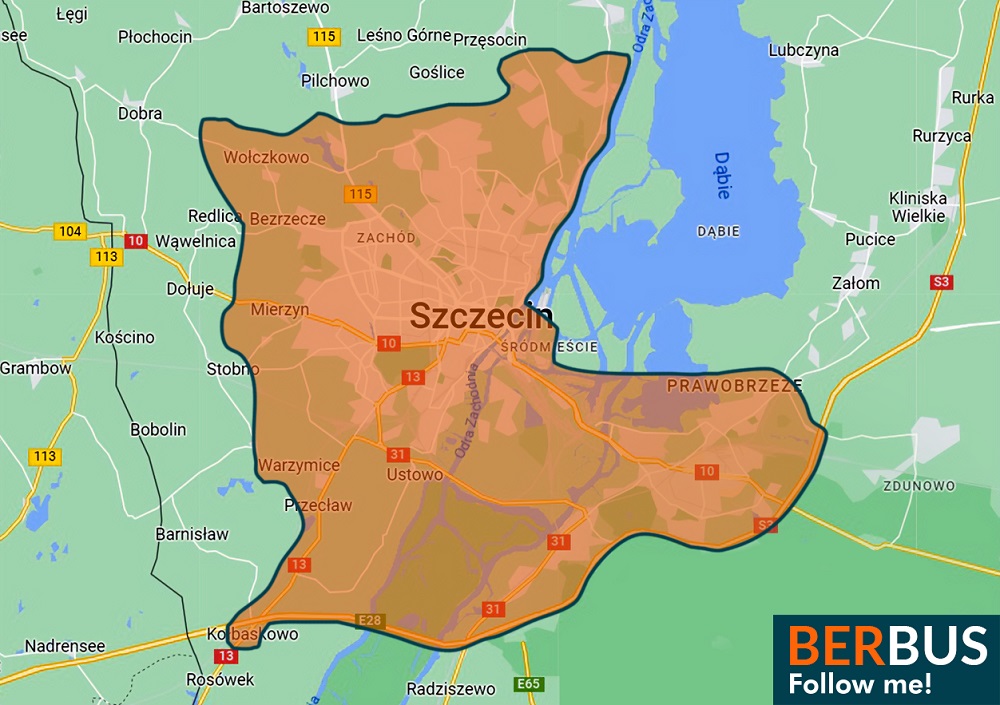 BERBUS – what else is worth knowing?
Rides are carried out with all recommended safety measures. The car is equipped with all modern safety systems and, additionally, certified child seats are available for the youngest passengers (extra charge: 9 PLN/pc). You can take 1 suitcase free of charge in the luggage hold and additional hand luggage. Each additional piece of luggage is subject to a fee of PLN 15 - you can buy it during the booking process.
Why choose our services?
Convenience - Leaving from the doorstep of your home? A more comfortable solution would be hard to find! Getting to Berlin-Brandenburg Airport with Follow me! is a journey in a modern car, in a comfortable seat, with free Wi-Fi and USB ports.
Safety - The minivans that take our customers to the airport are equipped with the latest safety systems. What's more: unlike our competitors, we provide our youngest passengers with certified safety seats.
Professional service - Qualified and - very importantly - friendly, courteous drivers and competent customer service staff form a team you can trust. They make both booking our services and getting to Berlin-Brandenburg Airport as comfortable as possible.